Connect to Zoom using ITV (Moninger)
Open Zoom on your computer and join your meeting. Make sure that your microphone is on mute, and your volume is turned all the way down. Take note of the meeting ID as it will be needed in the following step
Note
Your laptop will control the meeting as the host. All operations (sharing your screen, breakout rooms, chat, etc.) are to be done on your laptop as you would when you are teaching remotely. 
Go to the touch panel and tap anywhere on the "FDU Logo"
Tip
If the screen is off, tap on it to wake the screen, then tap on the FDU logo.
This should bring you to the input selection screen, tap the icon on the top left named "Video Conf"
You should now see the navigation controls on the touch panel, where you can turn the projector on and off. Using the arrow keys on the touch panel navigate to the "Place a Call" on the projector and then tap "OK" button located in the middle of the arrows on the touch panel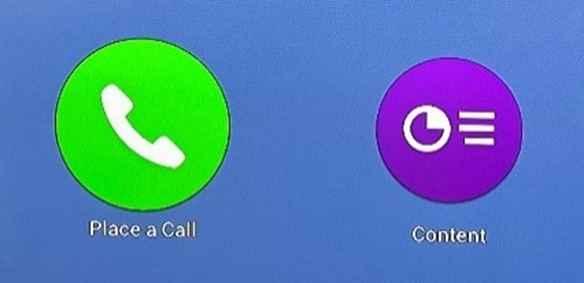 Navigate to "Contact" list using the arrows on the touch panel. Tap the "Down Arrow" and then the "Right Arrow" to move over into the contact list. From the directory list, select "A Zoom". Tap the "OK" button twice on the touch panel to place the call
Once connected you will be prompted to enter the meeting ID number. Tap the "#" button on the touch panel to enter your meeting ID by using the numeric keypad. Once you have entered the meeting ID number tap the "#" sign again
Note
If you have a meeting password, you need to enter it followed by the # sign.
If your meeting has a waiting room enabled, you will need to grant access to the ITV room on your computer.
Once the meeting has ended, you can end the Zoom meeting by tapping the "Disconnect Hang-Up" on the touch panel
Last Modified: May 2, 2023
Copy Link