macOS Ventura is Recommended for FDU Issued Computers
Posted:

December 19, 2022
In a Tech Alert sent on November 3rd, we explained that macOS Ventura (macOS 13) was in the process of being tested within our environment. We asked our community refrain from installing the OS on FDU issued Mac computers until further notice.
At this time, we are pleased to announce that macOS Ventura (macOS 13) is fully vetted and is approved to install on all FDU Mac computers. The upgrade can take up to an hour to complete and should be conducted with the power adapter connected.
Ventura can be installed via the FDU Self Service Portal for Software by launching the Upgrade to Ventura task shown below.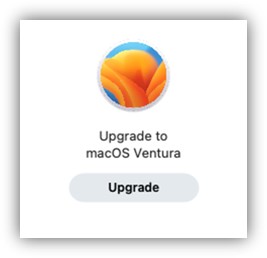 Alternately, you can go to the Apple menu > select System Preferences, and then select Software Update.
All FDU Mac users are welcome to upgrade to macOS Ventura. However, in the event that you choose not to install Ventura, we ask that you please install the latest version of macOS Monterey (12.6.2) at your earliest convenience. Thank you for your attention to this matter.
Last Modified: January 3, 2023
Copy Link