Using Respondus LockDown Browser and Monitor
Using Respondus LockDown Browser and Respondus Monitor in Webcampus
LockDown Browser is a custom browser that locks down the testing environment in Blackboard Learn. When students use LockDown Browser to take a Blackboard test, they are unable to print, copy, go to other websites, access other applications, or close a test until it is submitted for grading. Tests created for use with LockDown Browser cannot be accessed with standard browsers, either.
Student Guide for Lockdown Browser.pdf
Download
Download and Install
Respondus LockDown Browser and Respondus Monitor
Download
Follow the onscreen instructions to complete the installation.
System Requirements
Windows
Windows 10 (including x86 32 and 64bit processors and ARM 64bit processors using x86 emulation), Windows 8 and Windows 7.
2 GB RAM
200 MB of free Hard Disk space
Note
Windows 10S is not a compatible operating system.
macOS
macOS 10.12 to 10.15
2 GB RAM
200 MB of free Hard Disk space
iOS
Note
LockDown Browser and Respondus Monitor may continue to run in older operating systems that have reached "end-of-life" but students may encounter unexpected results.
Setting up and Using Respondus LockDown Browser Monitor
Log into your course in webcampus and deploy a test. This step is important, as you will not be able to use Respondus LockDown Browser unless you have created and deployed a test
From the Control Panel locate the "Course Tools" section and select the link "Respondus LockDown Browser"
Click on "Continue to LockDown Browser"
Click on the arrow next to the exam you want to implement "Lockdown Browser"and click on "Settings"
Click on "Require Respondus LockDown Browser for this exam"
Click on "Advanced Settings" and choose the options that you want to enable for the exam
The first setting will prevent students from exiting the browser until the exam is completed
The second setting will allow students to take the exam with an iPad, using the free LockDown Browser app.
The third setting will allow students to access a list of specified web domains during the test
The fourth and fifth settings allow instructors to provide students with a calculator or print function in the LockDown Browser toolbar
Tip
For additional information, select the explain link that follows each setting
Click "Save and Close" to apply settings
Respondus Monitor
Respondus Monitor is a webcam feature for LockDown Browser that records students during online, non-proctored exams. When this feature is enabled for a test, students are required to use a webcam and microphone with LockDown Browser. After the exam is complete, an instructor can review details of the assessment, even the recorded videos.
To give students the option to either take the exam with a webcam or in a proctored testing lab, select Either Respondus Monitor or a proctored lab can be used to take this exam. A test password will then be required to access the test for use in proctored settings.
Click on "Respondus Monitor for this exam"
Now select the items to be included in the "Startup Sequence", the steps a student must complete prior to the start of an exam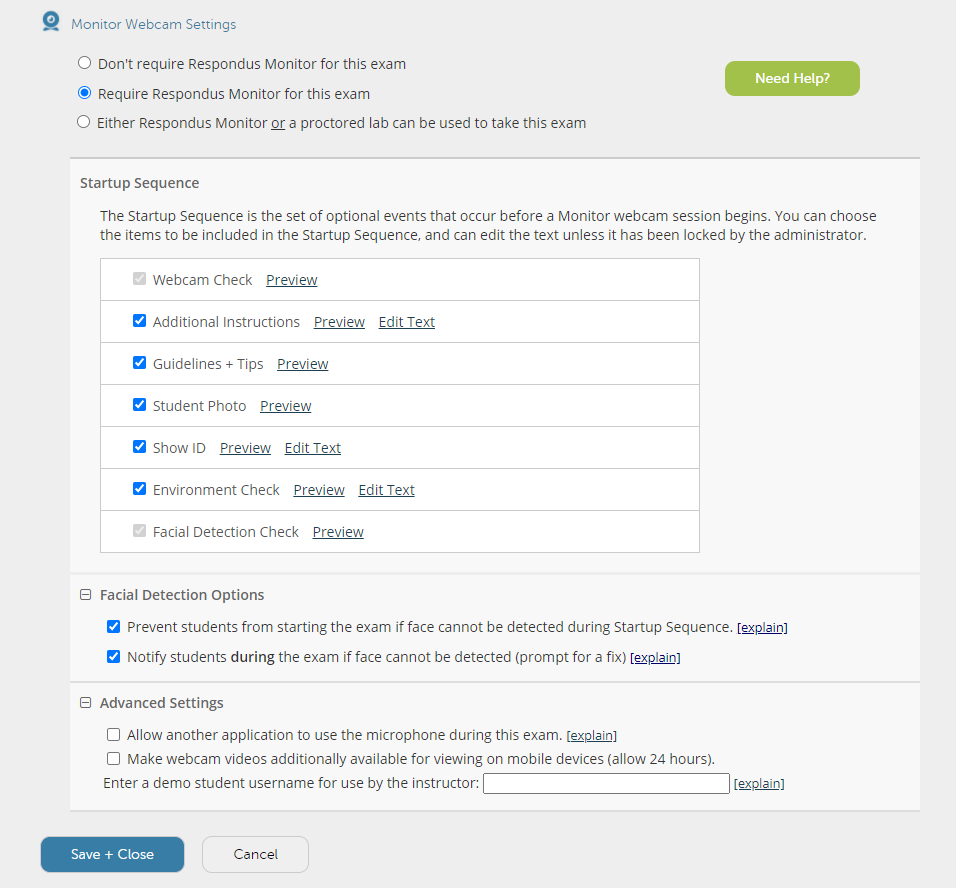 Choose "Save and Close"
Your exam will now require the use of LockDown Browser and Respondus Monitor.

Last Modified: May 2, 2023
Copy Link