Prior to arriving to the classroom, you should have set up your meeting for the class. Please make sure your computer is connected to the Wi-Fi "FDU Secure". Start the meeting from your laptop. Make sure that your microphone is muted and your volume is turned all the way down. Please make note of the meeting ID as it will be needed in the following step.
Your laptop will control the meeting as the host. All operations (sharing your screen, breakout rooms, chat, ECT) are to be done on your laptop as you would when you are teaching remotely.
The carts display (TV) should be on. If it is not, turn on TV by pressing the red power button on the provided TV remote
If the display says "no source" or does not show the Zoom room screen pictured, press the source button on the remote until you see the Zoom room screen
On the touch screen, make sure that the Join icon is selected and enter your meeting ID. Once you have done that, you can tap on the join checkmark
Depending on the security you have set up for your class, you might have to let your zoom room in from the waiting room. You can do that from your meeting on your laptop. It may also ask for a password if you set one up for your meeting. If so, enter this when prompted on the touch screen
Tips
If you have "mute participants on entry" set up for your meeting, you have to unmute when connected. Also, confirm your volume is up on zoom cart by sliding the volume dial all the way to the right.

You can switch to the secondary camera by tapping the "switch camera" button.
If you want to switch the focus of the camera, you can follow the next step. If not, you can continue your meeting as normal from your laptop.
---
Switch Focus of Camera
To change the orientation of the camera, tap the "camera control" button. Using this control, you can pan camera up, down, right and left
You can also zoom in and out or switch to the secondary camera in the room by clicking the "switch camera" button on the bottom left
When your class is over, click on the "Leave" button on the panel
Click "End meeting for all" and make sure you end the meeting from your laptop as well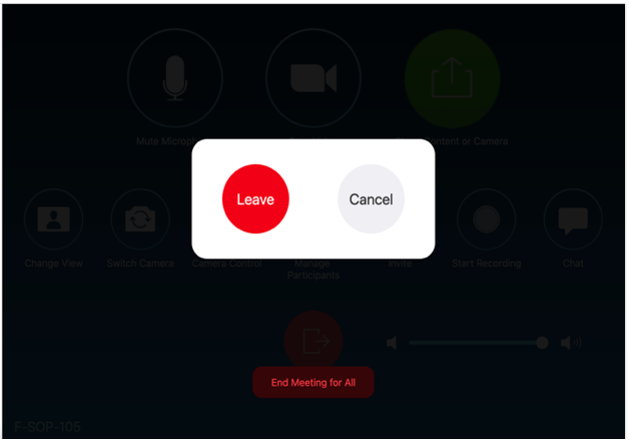 If after following these instructions you are having trouble, please contact the Fairleigh Dickinson University Technical Assistance Center (UTAC).
Last Modified: May 2, 2023
Copy Link