SAMI Support Portal Update
Posted:

February 28, 2023
On February 7, we sent a Tech Alert announcing the upcoming launch of our new technical support portal, now known as SAMI Support. We are very excited to announce that we are still on track for launching this key SOAR initiative on Monday, March 13. SAMI Support will be accessible at:
Announcements for both live and recorded training sessions scheduled for the week of March 6 will be sent later this week. SAMI Support introduces an incredibly streamlined and efficient way for our community to get information on their technology needs and access our support center without dialing a phone or waiting on hold.
The screenshot below shows the simple interface used to submit a technology support request.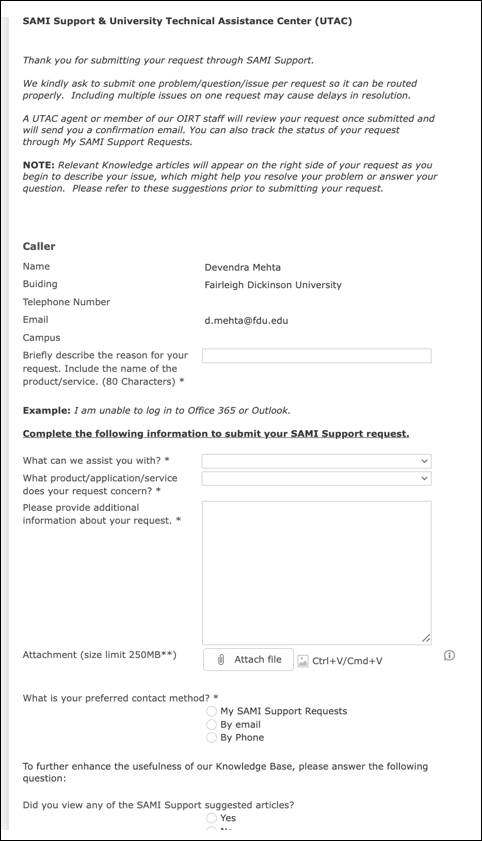 And, it is mobile, which makes it even more accessible.
The benefits of SAMI Support for our Students, Faculty, and Staff include:
One place to submit a form, open a request, and view all your open & closed requests, view current Tech Alerts, access the technical knowledge base, and more
Many answers can be found directly from the portal including our most frequent requests, and assistance with resetting your NetID password
Submit requests without waiting on hold
Track tickets without having to call
Save time by interacting directly with your technician
Easy-to-use interface and informative auto-generated emails
Requests submitted online are routed quickly for faster resolution and increased productivity
Of course, the UTAC phone number (973)-443-8822 is always available if needed.
Last Modified: February 28, 2023
Copy Link