Unified Communications Update
Florham Campus
On Thursday night, October 11th, NWN and FDU successfully ported 561 lines on the Florham campus to our new Unified Communications system. That night, we had a team of OIRT volunteers scour the campus testing phones, and our UC Helpers were out in the field on Friday and Monday walking all the departments and ensuring everyone was set. I hope they were able to help answer any questions!
Roughly 65 problems were reported between Friday and Monday that have already been resolved. An additional 30 issues, mostly minor, came in yesterday and are currently being fixed. We'll continue to keep an eye on Florham as we turn our focus our attention on the Metro campus.
Here are a few pictures from Friday's Cut Day.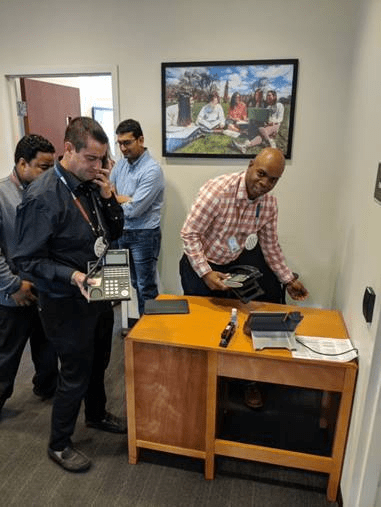 Metropolitan Campus
We began distributing phones on Monday, starting with Bancroft Hall and Dickinson Hall. Our goal is to have all phones on desks by the end of this week. Please take a moment to look at your new phone and set up voicemail. If you see an issue, please send a note to FDU-UC@fdu.edu. We will begin working on these issues early next week. We do anticipate a few more errors on the Metro campus than we experienced at Florham, so don't be concerned if things are not correct. Send us the information and we will attend to it in the coming days.
Cut Day is Monday night, 10/28 at 6 pm. We will again have a team of people working Monday night testing phones and ensuring all numbers ported to the new system. Tuesday morning, 10/29, old phones will no longer work. UC Helpers will be walking through each department on Tuesday and Wednesday, assisting anyone in need. A Trainer will be on site Tuesday to help with any questions. Training locations will be announced next week. Please ensure you have cleared your old voicemail and written down any information, as the voicemail system is NEW.
Two additional pieces of information for BOTH campuses:
Quick Reference Guides
Several people have requested an on-line version of the Quick Reference Guides.
Headsets
We have a list of approved headsets that can be purchased by departments to use with the new phones. The costs and instructions can be found in the url below. These are the only headsets approved to be used with the Cisco phones.
Last Modified: November 12, 2019
Copy Link