Improved Method of Reporting Phishing Attempts
Throughout the years, the FDU community has reported phishing attempts to FDU IT through various means. With the recent rise in such attempts, we have implemented a new, easy to use, and consistent reporting tool which is integrated directly into your email application.
When viewing a message through the office365.fdu.edu web interface, there is now a drop down menu labeled as "Junk".  Simply select phishing from the menu.
If you view your mail from the Microsoft Outlook application, the dropdown menu will be labeled as "Report Message" but the process remains the same. Simply select "Phishing".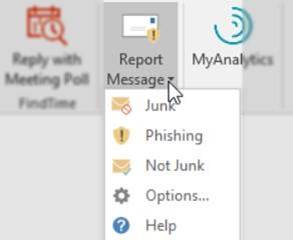 If you are viewing your mail through the Outlook Mobile app on Android or Apple iOS, you will select "Report Junk" and then select "Phishing".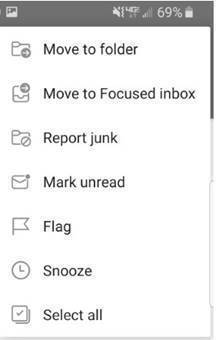 Once you report a phishing attempt through any of these interfaces, the message will automatically be moved to the deleted items folder and a report will be sent to both FDU IT and Microsoft. There is also an option to filter spam messages. From the same drop down menu, select "Junk" and the message will be moved to the Junk Folder.
If you require any assistance or have any additional questions, please call the University Technical Assistance Center at (973)-443-8822.
Last Modified: March 6, 2020
Copy Link