macOS Ventura is Not Yet Recommended for FDU Issued Computers
When a new operating system is released, the USAN team regularly performs various tests to ensure that it is fully compatible with the FDU environment. As this process is still ongoing for macOS Ventura (macOS 13), we ask that you do not upgrade your FDU issued computer to macOS Ventura at this time. We will send another alert to the community as soon as macOS Ventura is fully vetted and ready to install.
In the meantime, Apple has also released macOS Monterey version 12.6.1, which is recommended for all FDU issued Mac computers. To ensure that you are installing the correct OS update, please go to System Preferences via Apple menu and then select Software Update.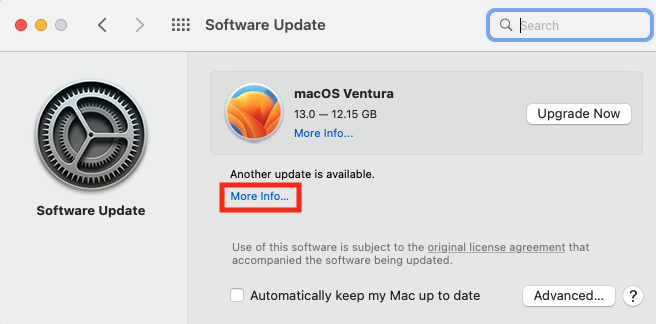 Next, locate Another update is available. and click More Info…
Ensure the box next to macOS Monterey 12.6.1 is checked and click Install Now.
If you have any questions or concerns while completing the update, please contact UTAC at (973)-443-8822. Thank you for updating and keeping your machine safe.
Last Modified: November 4, 2022
Copy Link