Logging into Webcampus
NOTE: Must have an FDU email account to login.
Login to Webcampus with your full Webmail username (ex: yourname@fdu.edu) and password.
Check your courses under the "My Courses" module
Select the class you wish to view content.
You will be taken to your course announcements page with links to other portions of your class.
Creating a Zoom meeting link from within your course in Webcampus
When using the Zoom, all meetings and recordings are managed within Zoom cloud, in webcampus Instructors can schedule new meetings and students can join meetings from a single link.
NOTE: For existing courses only. For new courses starting next semester, a Zoom meeting link on the left hand navigation menu will be will added automatically.
Click on the "+" sign on the top left corner
Click on Tool Link
Create a name for the link, example "Zoom Meeting"
From the "Type" drop down menu scroll all the way to the end and select "Zoom Meeting"
Make sure you check the box next to "Available for users" option
Click "Submit
A Zoom Link will be created in the left navigation menu area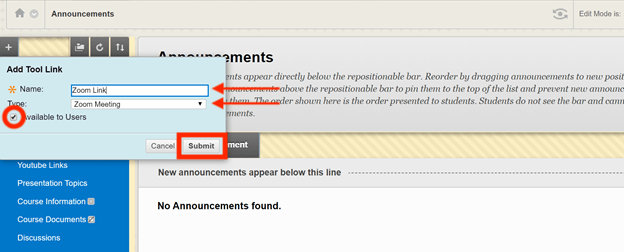 Accessing the Zoom meeting link from the Tools menu
Click on "Tools" from the left navigation area
On the next page scroll all the way to the bottom and click on "Zoom Meeting"
Blackboard Documentation
Online Learning for Students Documentation
Getting started with Online Learning PDF
Download
Video Links
Minimum hardware and software requirements


Minimum
Recommended
Operating System
Windows 7 or higher
Mac OSX 10.8 or higher
Windows 10
Mac OS 10.12
Processor
1 GHz processor
2 GHz or faster processor
Memory
512 MB of RAM
2 GB of RAM or higher
Monitor Resolution
1024 x 768
1024 x 768 or higher
Free Hard Disk Space
5 GB of free disk space
20 GB or higher of free space
Internet Connection
DSL or Broadband (high-speed) Internet connection with a consistent minimum speed of 2 Mbps
Broadband (high-speed) Internet connection with a speed of 4 Mbps or higher
Java
Java may be necessary to use Blackboard


For technical assistance please call the help desk from the Metropolitan campus dial 8822, from the College at Florham dial 8822, and from off campus dial (973)-443-8822. Or Email us at FDUTAC@fdu.edu
Last Modified: March 13, 2020
Copy Link
See also