Cisco Duo Multi-Factor Authentication for FDU VPN
Cisco Duo multi-factor authentication has been a massive enhancement to our community's online security and we are excited to extend these benefits to the FDU VPN. Starting on Wednesday 5/25, all faculty, staff, and student connections to the VPN will authenticate through Cisco Duo.
Access to the VPN will remain mostly unchanged. Simply open the Cisco AnyConnect Client and connect to vpn.fdu.edu as usual.
You will be brought to a familiar login screen. Your username and password will be your FDU NetID login information and your group will be either "1-Employees-MFA" for faculty and staff or "2-Students-MFA" for students.
Note
The existing non-MFA groups will remain intact for thirty days. In the unlikely event that you experience an issue connecting to the MFA group, please use the corresponding non-MFA group and create a UTAC ticket so that we are aware of your issue. After 30 days, the non-MFA groups will be removed and you will just use "1-Employees" or "2-Students" to log in with MFA.
After selecting your group and clicking OK, you will encounter the new Cisco Duo authentication screen. To proceed, type the number corresponding with your preferred authentication method and click Continue. An example is below, but your screen may vary slightly if you choose to authenticate with multiple devices.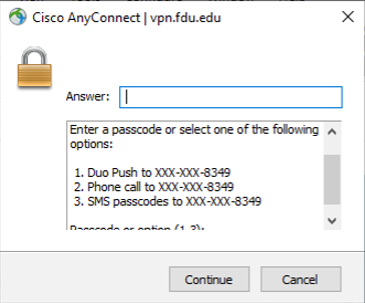 Complete the process via your selected Duo authentication method. Our expectation is that this transition will be seamless. However, if you encounter any issues or have any questions, please contact the University Technical Center Assistance at (973)-443-8822. For more information, please visit:
Last Modified: May 24, 2022
Copy Link